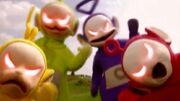 Mesmo Escapes Teletubby Land is a full-hour special made by Hyperealistic Gaben. It has to do with Mesmo being killed by Teletubbies.
Synospis
Mesmo attempts to escape from Teletubby Land. 
Episode Summary
The original movie's footage was flushed away in the toilet so they'll make another one sometime. 
Trivia
Po rips off Mesmo's face in this episode.
This episode was banned because it was too violent.
Teletubbies is a kids show.
This episode could not be on television because it was banned because of violence.
Cheesecake of Krader appears in this episode.